Marilyn Castro
Born and raised in San Juan, Puerto Rico and growing up with Latin music rhythms Zumba® fitness is the perfect fit for me. Zumba® fitness is a great way of combining a great aerobic workout with a lot of fun. Zumba is typically about an hour long aerobic exercise. The music comes from the following dance styles: merengue, salsa, mambo, flamenco, cumbia, reggeton, samba, hip hop and tango.  It is such a blast and it is designed for anyone who loves music. Zumba® Fitness brings so much joy to so many people that didn't think they could work out. Zumba® Fitness is for everyone and that's what makes it such a great workout. No dance experience needed. All you have to bring is your smile and I promise you will have a great time.  My goal is to inspire others that you can be in good shape and have a great time doing it. I look forward to meeting you! I am Group Exercise Certified by the Aerobics and Fitness Association of America.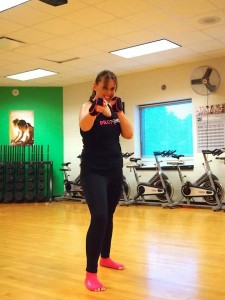 I also love to teach PILOXING®. PILOXING® cardio fusion incorporates cutting edge research and fitness techniques to burn maximum
calories, build lean muscles, and increase stamina. The program uniquely blends the power, speed, and agility of boxing with the targeted sculpting and flexibility of pilates. These techniques are also supplemented by the use of weighted gloves, further toning the arms and maximizing cardiovascular health.  Add to that exhilarating dance moves and you have a muscle-toning, fat-burning workout that will make you feel physically and mentally empowered! Come try the latest Hollywood fitness craze! PILOXING uniquely blends the power, speed and agility of boxing with the beautiful sculpting and flexibility of Pilates. It is a fat torching, muscle sculpting, core-centric interval workout, guaranteed to whip you into shape.
Ditch the workout and join the party!