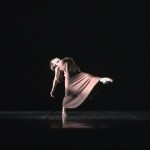 Marie Rants has been dancing professionally since 1996. She holds a B.A. in Dance from Old Dominion University, where she received numerous awards for performance including the Eva May Morris Scholarship. In addition, she graduated Summa Cum Laude.
Marie began dancing Ballroom at a very young age. By age 15, having performed for numerous events, she was asked to choreograph a Swing medley for honored guest Mayor Meyera Obendorf. This began her serious career to professional dancing. In college, she choreographed and staged several Modern dance productions for University Dance Theatre, as well as performed in astounding pieces, such as Still Waters, by Todd Rosenlieb. Other professional works include choreographing the opening number for international pop artist Martin Niviera in 1998, USA Dance New Year's Eve Extravaganza, 2003-2015, and performances in Hampton Roads' Dancing With Our Stars, 2009- 2016.
Marie believes that by having classical training in Ballet and Modern dance, she has been able to become not only a better Ballroom dancer, but a more proficient teacher. She has been coached by top champions- Bill Sparks, Tony Meredith (So You Think You Can Dance), Forrest Vance, Irina Sarukhanyan, Rosendo Fumero, and Kathryn Shaefer. Marie specializes in the American Rhythm & Smooth Ballroom disciplines.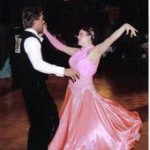 Jessica Clark began her dance career in 2002 and is a Certified Latin & Ballroom Instructor. In the 2007 Virginia State Championships, she lead her student to the highest level in his category and was recognized as one of the Top Teachers. She is a competitive Pro-Am dancer, but her specialty and love of teaching is with new students, wedding choreography, and social dancing. Ms. Clark has produced works for multiple Hampton Roads' showcases, including Rants Ballroom Company's annual Summer Soiree. Off the dance floor, she is recognized as an elite, certified make-up artist.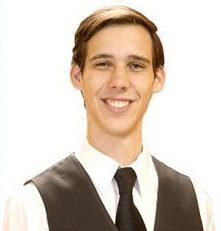 Timothy Sovine, a BFA graduate from Old Dominion University, has been dancing socially and competitively since 2013. Past works include performances and choreography for USA Dance, Dancing with the Hampton Roads Celebrity Stars, University Dance Theatre, and Rants Ballroom Company. He is a 2-time Champion in the HR Dancing with the Stars. Mr. Sovine specializes in the American Rhythm & Smooth disciplines of ballroom dance and is our Wedding Dance Specialist.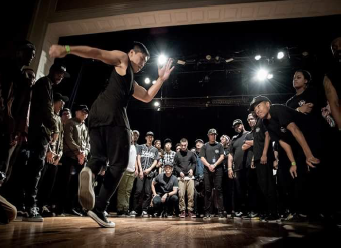 Nathan Daguro, a Mechanical Engineering student at Tidewater Community College, is the Hip-Hop instructor at Rants Ballroom Company. Mr. Daguro started breakdancing in 2009, and in 2011 he immersed himself in other aspects of Hip Hop including House, Popping, and Locking. Other genres of dance include Filipino folk dancing. He is part of the dance teams CREWcial and YFAMD (Young Filipino American Modern Dancers).  Besides dancing, Nathan is a 1st Degree Black Belt in
Taekwondo and instructs martial arts locally.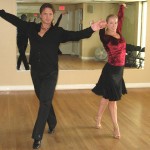 Chuck Wills has been in the dance world as a working professional for over thirty years.
After winning several local dance contests as a teenager with his classically trained sister Charlene, Chuck was recruited to train and eventually begin his teaching career with both Fred Astaire and Arthur Murray dance studios. Chuck started his career in Tidewater, but soon moved to Orlando, Florida where he trained and taught for 10 years. He also has taught in Colorado Springs, Corpus Christi, and Beverly Hills.
Chuck's special niche is training couples to social dance. He enjoys being a part of the enhancement dancing offers to relationships, as well the quality time participating in such a fun, intimate, and exhilarating activity. In addition to teaching couples, Chuck also enjoys training his students/partners for special performances hroughout the year. His knowledge and love for music, dance, and people, as well as his outgoing personality, provides a natural transition for his second business- Emceeing and DeeJaying, mostly at weddings, but also at holiday parties and other social affairs.
Chuck is enthusiastically taking new students.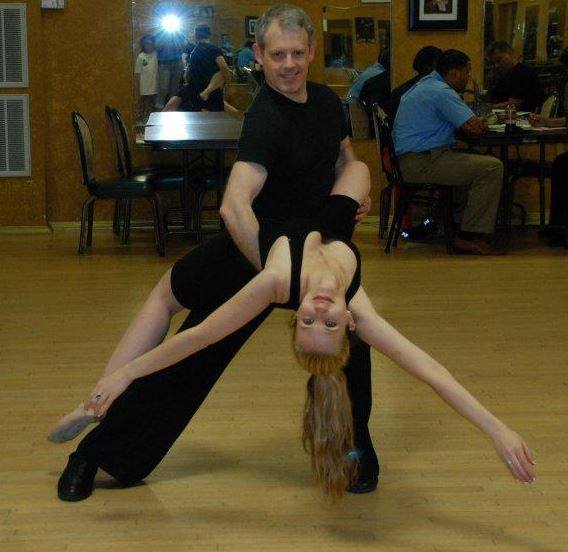 Brett Landon Long has been teaching social dancing since 1976. He is certified through 2 organizaions he chose to specialize in Lead/Follow connection in the partner dances.
His strong dances are Hustle, West Coast Swing, Rumba, Salsa, American Cha Cha, Hustle, Two Step and Slow Dance (Wedding).
Personal Favorite dances are Salon Argentine Tango, International Foxtrot and International Rumba.
When not teaching Brett likes to make instructional dance videos and dance related web pages.
One of his goals is to find a female partner with lots of free time, a sense of humor and a strong dance background (Ballet/Tap/Jazz/Gymnastics).