Wedding Dance Lessons & Group Wedding Classes in Virginia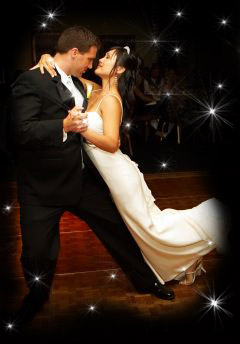 Your wedding is truly a momentous time of your life and will be filled with special moments and beautiful memories to be shared by all your closest family and friends. Nothing should be left to chance, especially the wedding dance.  We want you to experience the joy of dancing a specially choreographed first dance that is customized just for you. Imagine gliding across the dance floor with the confidence of a pro to your own special dance.
Wedding dance lessons prepare you for that all important first dance, for the father/daughter or mother/son dance.
We can also choreograph for fun and unusual group wedding dance lessons. We can create dance miracles and teach anyone how to perform the best wedding dance customized and suited to your personalities and preferences.  It's easy and fun. Depending on your experience and budget, our wedding dance lessons can be as little as one session or several sessions.  Whether you want to take wedding dance lessons in Virginia Beach, Chesapeake, Norfolk or any of the surrounding areas in Hampton Roads Virginia, our  wedding dance lessons and instruction are available at our studios, conveniently located in Virginia Beach.
Wedding dance lessons in just 3 sessions
You don't have to know how to dance at all – we'll teach you everything you need to know to surprise and delight your family and friends and to cherish that special moment with your loved one that will endure as a beautiful lifetime memory.  There is no minimum number of wedding dance lessons required. However, it's been our experience that a minimum of 3 sessions is needed to perfect your best first dance. We also recommend that you register for your wedding dance lessons at least 90 days prior to the wedding day.
Our wedding first dance lessons include a unique approach to help you retain the information you'll need to build your first dance. Since you learn only a single dance, you don't have to learn everything about dancing. This method helps you overcome the fear of dancing and wow your guests with the best wedding dance possible. You'll look like you've danced your whole life.
It doesn't matter if you have lots of dancing experience and your fiancé  has never danced. We'll develop dance choreography that works for both of you. The choreography is designed to take into account your physical characteristics, your dance experience, and even the type of dress and shoes you will be wearing to make sure your dance is the best wedding dance we can create.
Wedding dance can be for everyone and we can choreograph group wedding dance lessons for your whole wedding party.
Using custom choreography, we can create dances for your entire wedding party – up to 20 couples.  Group dancing is lively and creates a very entertaining stage show. It's fun for both you and your guests. Or we can create a goodbye dance for you to enjoy before you leave for your honeymoon. There are many ways to celebrate your marriage through dance whether it's with wedding first dance lessons or group lessons, and we provide wedding dance lessons for any type of dance and music.
We would be honored to help you prepare for your special day.  So lets get started on your customized wedding dance lessons and choreography. Contact us or call Marie at 757 650-4984